Service Center

---
Welcome to the Stokes Honda Cars of Beaufort Service Center
Why Stokes Honda Cars of Beaufort?
When you are in search of a high quality, trustworthy, and professional Honda Service Center in the Beaufort and Bluffton area, look no further than Stokes Honda Cars of Beaufort. It's always going to be necessary to have your vehicle serviced, and Stokes Honda Cars of Beaufort has one of the top shops around. We are located at 88 Robert Smalls Parkway in Beaufort, SC, and house all of the facilities needed to keep your car running as good as new.
Our Honda trained and ASE Certified technicians are here to provide you the most exceptional service in a professional and timely manner. From brake pad replacement, oil changes, and transmission work, we are here and dedicated to maintaining a top shelf customer service experience.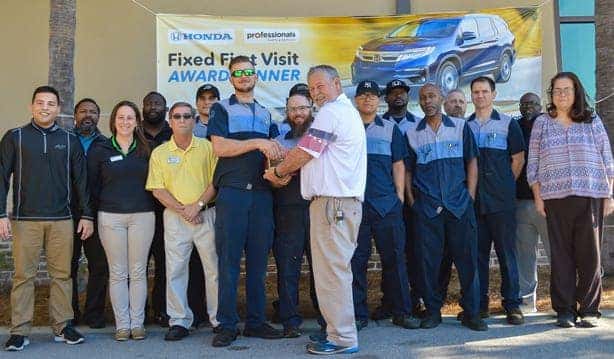 Our Services - We offer a wide variety of services to fit any budget.
Oil Change (Lube, Oil & Filter Change)
Preventative Maintenance
Automatic Transmission Service
Air Conditioning
New Tires & Tire Rotation
Front End Alignment
Muffler & Exhaust Repair
Coolant Flush
Transmission Flush
Tire Balance & Replacement
Much More!
These are just some of the services Stokes Honda Cars of Beaufort offers. You can easily schedule an appointment or visit our dealership to receive immediate service. The maintenance minder on your Honda dashboard will help remind you when specific maintenance is needed. If your busy lifestyle prevents easy access to our shop, use our Ask a Tech service to receive an answer to your inquiry online.
If you prefer to do your own auto repairs, feel free to utilize our parts department to find exactly what you're looking for. We frequently offer specials on specific parts to make your at home repairs cheaper. Our service department also specializes in batteries, tires, and brakes, three of the most important functions of your vehicle to monitor. As long as you stay in contact with Stokes Honda Cars of Beaufort for all of your maintenance needs, we will keep your vehicle road-worthy.
If you have any type of service questions or want to make an appointment, simply contact us at 843-379-2542 to have any of your questions answered. Our trained technicians will be happy to speak with you and analyze a quick and efficient solution to your maintenance need. Place your trust in Stokes Honda Cars of Beaufort for all of your maintenance needs and feel safe out there on the road.
Service Info
Mon - Fri

7:30 AM - 6:00 PM




Sat

7:30 AM - 6:00 PM




Sun

Closed